How to edit MIDI files in Audacity
How can I edit MIDI files?
Introduction.
What to do if your MIDI file doesn't sound the way you want? The sound is almost there, but this "almost" is annoying ...
No panic. Everything can be mended. What you need is a simple and easy to use MIDI editor that would allow you to get your job done quickly and effectively, rather than studying its interface.
We are investigating a unique MIDI program that gives you real visual editing - Able MIDI Editor.
Step 1: Download and install the program.
Download Able MIDI Editor to a folder on your computer. Then start the installation and follow the instructions.
Step 2: start the program. Open your MIDI file.
Start Able MIDI Editor by clicking the My Computer icon (if you have it installed). The following window appears: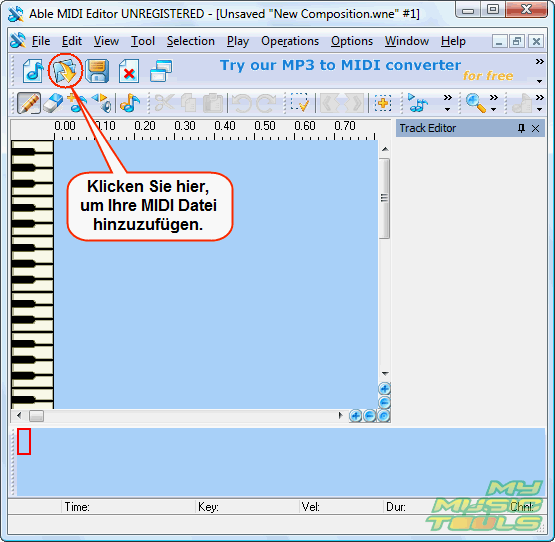 Click the highlighting icon on the toolbar to get an ordinary "Open" dialog: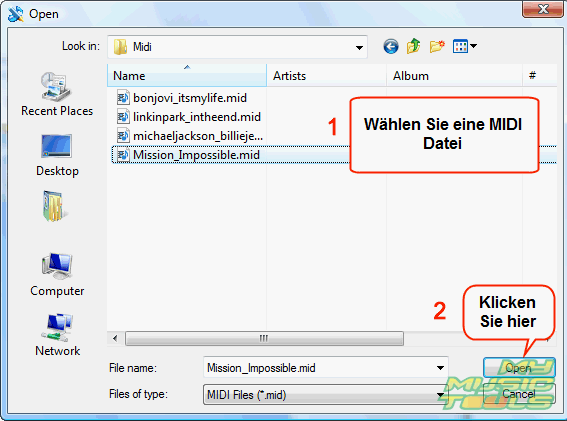 Browse through to your MIDI files and choose one to edit. Click "Open".
Step 3: edit your MIDI. Save the result.
The file is loaded into the program. You can see something like this: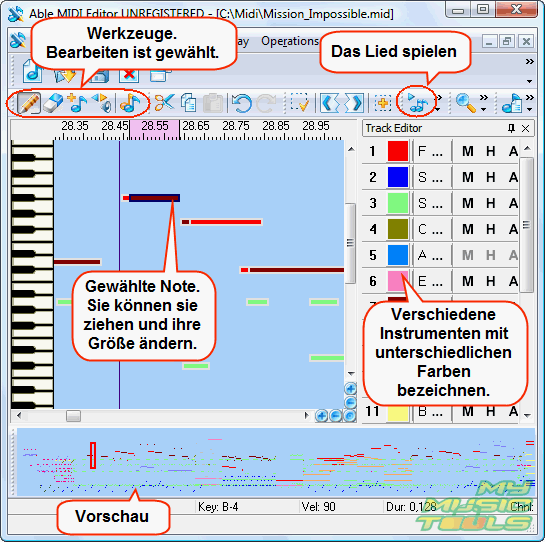 Take a look at the bottom of the window. Here your song is represented as a number of bars. In my screenshot the bars are of different colors. I set this up manually to see different instruments right away. You can do the same by clicking the colored buttons in the Track Editor (right) and choosing a suitable color.
You will also see a red rectangle. The rectangle defines the area you see in the upper part of the window (the one with the piano keys).
Now for the piano keys area. This is our main area. Here we can edit notes.
The grades are shown as bars. You can drag each note to its position, or change its size (this changes the duration). If you need a note on a higher pitch, drag it up, and vice versa. Piano keys help you orientate among pitches.
Then click "Save" on the toolbar to confirm your changes.

The trial version of Able MIDI Editor only saves 60 seconds of each file. When you are satisfied with the program, you can purchase it and remove any restrictions on your data.
Side of the product